This article summarizes who is using METRo.
Countries using METRo
Edit
METRo is currently or have been used by a governmental agency or a private company in each of the following countries:
Algeria
Austria
Canada
Catalonia
Croatia
Czech Republic
Estonia
Finland
Ireland
Italy
Latvia
Lithuania
New Zealand
Russia
Slovakia
Slovenia
South Korea
Sweden
United States
SIRWEC hold a congress every two years. During this congress, a lunch of METRo users is held after the congress closing to permit to the users to exchange about the model and to talk about its future.
2014, Andorra
Edit

From left to right:
Petr Pesice, Czech Republic
Zbynek Sokol, Czech Republic
Josep Ramon Miró, Catalonia (Spain)
Roger Veciana i Rovira, Catalonia (Spain)
Samu Karanko, Finland
Richard Habrovsky, Slovakia
Rok Kršmanc, Slovenia
Viktor Tarjáni, Slovakia
Kati Saarikangas, Finland
James Hamilton, Ireland
Pat Clarke, Ireland
2012, Helsinki
Edit

From left to right:
Benedikt Bica, Austria
Peter Nutz, Austria
Samu Karanko, Finland
Pavel Sedlák, Czech Republic
Michael Chapman, USA
Pirkko Saarikivi, Finland,
Martin Benko, Slovakia
Vojtěch Bližňák, Czech Republic
Miguel Tremblay, Canada
Alenka Šajn Slak, Slovenia
Rok Kršmanc, Slovenia
2010, Québec
Edit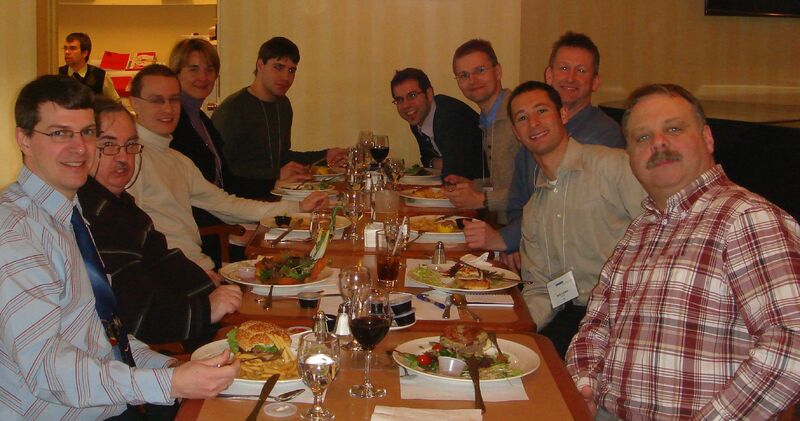 From left to right:
Claude Lapointe, Québec
Alenka Šajn Slak, Slovenia
Rok Kršmanc, Slovenia
Miguel Tremblay, Canada
Andy Ziegler, New Zealand
Iain Russel, Canada
Seth Linden, USA
Remy Claverie, France
Ad blocker interference detected!
Wikia is a free-to-use site that makes money from advertising. We have a modified experience for viewers using ad blockers

Wikia is not accessible if you've made further modifications. Remove the custom ad blocker rule(s) and the page will load as expected.