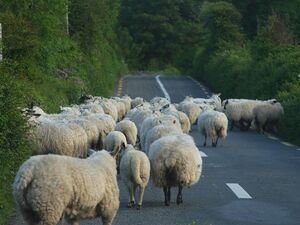 Introduction
Edit
METRo stands for Model of the Environment and Temperature of Roads. METRo is a road forecast software created in 1999 and distributed under the GPL license by Environment and Climate change Canada.
With the help of observations provided by a road weather station (road weather information system, RWIS) and the atmospheric forecast, METRo can, amongst other things, predict the roads conditions with particular interest such as: freezing rain, accumulation of snow, frost and thaw.
METRo is written in python and fortran 90 and can perform a 48 hours forecast on a standard desktop computer in less than 2 seconds.
METRo is included in the Commission for Basis Systems Software Registry of the World Meteorological Organization ( Global Data-processing Forecasting System).
Download
Edit

See license section for conditions of download and use.
Documentation
Edit
In a general way, this application should be called in command line like this:
python metro --input-forecast /data/forecast/forecas.xml  \
--input-station /data/station/station_configuration.xml  \
--input-observation /data/observation/observation.xml  \
--output-roadcast roadcast.xml 

For any bug report, please fill the bug report section on gna website.
You can also visit the developers corner of this wiki to post a question or to read about your problem or the troubleshooting page to see if there is a workaround or if it has already been reported.
Contribute
Edit
If you want to contribute in the METRo project, join the the METRo mailing list.
You can also consult the wish list to add an entry.
METRo is distributed under the GPL license version 2.
For more information about this license, please visit the GPL FAQ.
Reference
Edit
The METRo software is the implementation of the article:
| | |
| --- | --- |
| | This page is part of the documentation of the METRo software. Back to the table of content. |
Ad blocker interference detected!
Wikia is a free-to-use site that makes money from advertising. We have a modified experience for viewers using ad blockers

Wikia is not accessible if you've made further modifications. Remove the custom ad blocker rule(s) and the page will load as expected.